昨日土曜日。

トロントで知り合った友人でアーティスト、池田ルナちゃんの個展へ出かけました。

ルナちゃんは、まるで全身が筆、というか、全身が絵を描くための道具のような人で、

作品を見ていると、絵の具を使って絵を描きたくなってしまいます。

色とか、細かくきゅうーっと入ってゆくようなところ、自分と似たところがあるような気がするのですが、

何か素の部分が全然違って、刺激を受けます。

********

Runa's Blog;http://ameblo.jp/runa-art
LucSclupture Gallery;http://lucsculpture.com/

********

Visited Runa's solo exhibition at LucSculpture Gallery!
Runa Ikeda is an artist /painter I met here in Toronto.

Her paintings are so powerful, a lot of colors and sometimes we can see amazing details with a lot of patience.

I can see  similar but very different from me.
I've got much inspiration from her work and also herself.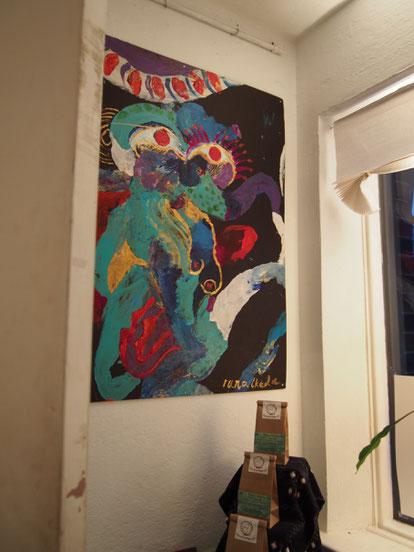 個展からレストランへ移動。

いろいろとお世話になったJohn's Italian cafe が昨日で閉店しました。
さみしいです。最後に大好きなニョッキゴルゴンゾーラを頂いて、シェフに挨拶して
みんなで終わりは始まりだね、という話しをして、酔っ払って帰宅しました。
感情的な雪の土曜日でした。
*********
John's Italian cafe is Closed last night.
I had my favorite dish gnocchi gorgonzola.
and we were talking about 'Closing is Opening'.
We have to finish in order to move on next place.
Thank you very much for amazing place and food, chef Julian.
That was my emotional snowy Saturday.