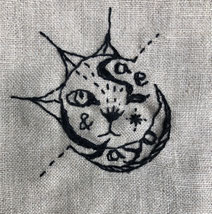 Sae&Yayo
https://www.instagram.com/saeandyayo/
友人のやよちゃんと始めた新しいプロジェクト。
実はけっこう前からこっそり始まっていたのです。
まだいろいろと試行錯誤中ですが、例えばもう捨てられそうな物を楽しく再利用してゆく、というような方向です。
今のとこシルクスクリーンがメインですが、これからきっといろいろな方向に膨らんでゆくかもしれません。
A new project with my friend Yayo.
We have been working on this project slowly, a little by little.
We are still in the process of finding a way to reach people.
Our intention is to save material from being thrown out. 
Right now our focus is on silkscreen, but I think it will grow much more into other medium as well.  
というわけで、
今年のカレンダーはシルクスクリーンで、風呂敷カレンダーです!
一年飾って楽しんだら、風呂敷として、ずうっとお楽しみ頂けます。
上の写真はスクリーンの制作過程。
進行状況はこちらのブログとsaeandyayoでお知らせしてゆきます!
...and so, I decided make this year's calendar as Furoshiki calendar. Furoshiki is Japanese way of calling squire fabric for carry things. 
Work is still in process (of course. it's only October...!)
pictures are process of making screens.
Please check the progress on this blog and follow saeandyayo !